Great get-together of the PNW FJR Forum members today at Auburn FJR's castle. Billed as "TechFest", I think it was really just an excuse to eat some pizza/pie. No matter, fun was had by all:
Rain didn't stop many from riding, though a few riders thought they had Harley's instead, witness several trailers full of FJR's. 2WheelTiger would have none of it; packing his Feejer with all manner of Pelican cases. He even had a Pelican on top of a pelican.
The real reason for the get together? PIE! Now that's what I'm talking 'bout.
Once again, Bryan and Marissa showed off incredible hospitality, with a carload of 'za and some tasty pies, of which Niehart had all three.
Next. Auburn showed everyone how the No-Mar works.
The crowd is awed by the sight of a wheel in perfect balance.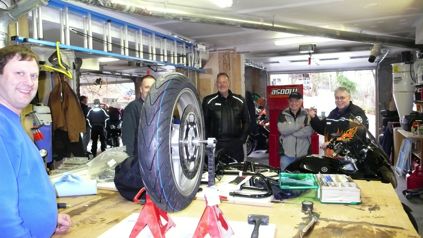 Next week we will gather at Niehart's to watch his seeds turn into lawn.
Really guys, we got to get out and ride more in the winter.
Ralph cannot believe his vacuum canister won't fit under the tank, and he isn't buying EscapeArtist's solution: for Ralph to get a Gen II.
"Snatch the pizza from my hand without dropping the wrench, Grasshopper, and you will have learned all there is for me to teach."
Achiu gets help with a TBS: "That there square thang? She's the motor, what done makes the wheels move."
Best Farkle of the day was hands down the bottle cap remover affixed to 2WheelTiger's license mount; a nifty box (yep, a Pelican) that uses renforced metal bars to mount to the license plate frame, and holds his tire patch gear. What do you think the odds are that 2WheelTiger's favorite movie is the Pelican Brief?