**The following ride report is loosely based on actual events. By loosely, I mean not really.
Ever been tasked with planning a ride? It's like planning a 5 year olds birthday party: you're wholly responsible for driving the fun bus, and if you get lost or fail to stop for peepee breaks, you'll soon have a whiny pack of fussbuckets with wet crotches to clean up after.
What I'm trying to say is that's a lot of responsibility in your hands. Riders show up, expecting that you've done your homework. And the PNW Crew up here...well...let's just say you don't want to disappoint a buncha
prescription drug running
,
pie eating
playa hata's.
That's why I took the easy way out.
The Sure thing.
Hood Canal with a couple of tire eating twisties.


Let's Play a Game of Don't Follow the Leader

It started out great. Everyone showed up at the meet spot on time.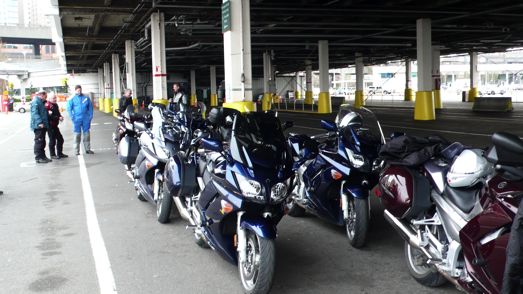 The first sign of trouble. A blinking gate dangled in front of a band of FJR marauders?
Well, it's just asking for trouble.
The crew spent the ride across the sound getting good and hopped up on coffee: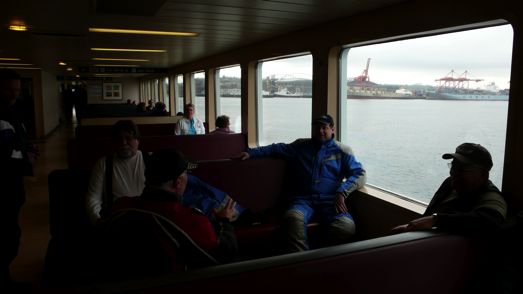 Meanwhile, the shore loomed ahead, and the sun loomed...well, the sun loomed somewhere. You might've heard it rains a lot up here.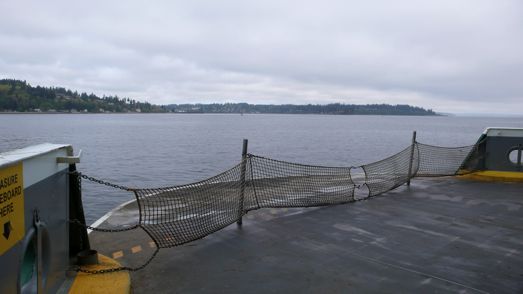 We got off the ferry in Bainbridge. This is where it started to go downhill. First rule of ride planning: make sure you know the route. I had been on various parts of the route over the past then years, but had never done the exact route.
I got us lost.
The forum shouts in unison: HOW LOST WERE YOU?
This lost: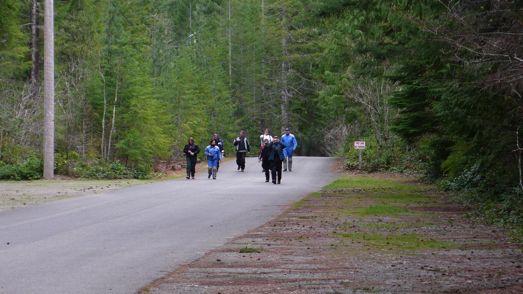 And to top it off, the kids on the fun bus were getting hungry. So we stopped for some pizza pie, of course.
Obligatory shot of Niehart stuffing his face. He said it was the "diet salad." That must be the diet rootbeer too.
Properly fueled, watered, and pissed off at the leader, the crew got serious about riding, and the Hood Canal and Lake Cushman cooperated with incredible scenery: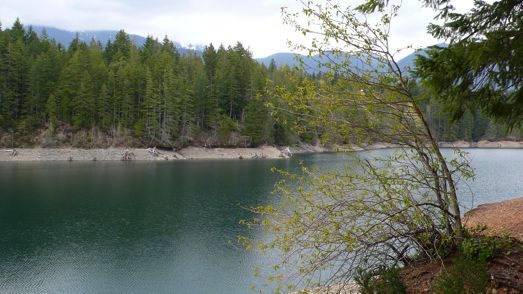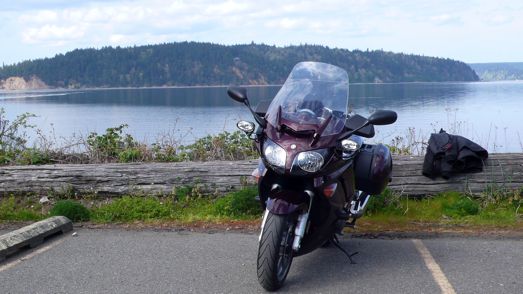 The sights were so beautiful and the roads so perfect, the crew almost forgot about how clueless the ride leader was with directions.
Except Auburn. He holds grudges.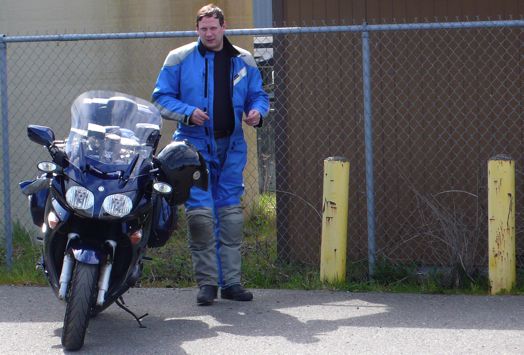 But the day was catching up with us, and due to the clueless ride leader's reliance on a GPS that wanted to send us riding up forest roads, we still had several hours to go. There was dissention in the group about whether to keep riding, or call it a night. Luckily for those of with responsibilities and spousal duties at home, Jay and Beamer Reemer's plan to camp out till morning was thwarted by a particularly effective and well placed sign.
But Niehart wanted to stay. Either that or he was just wondering if he had left the iron on.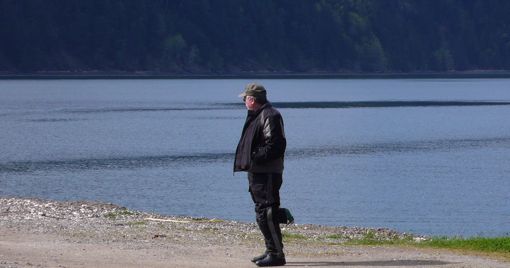 The crew reached deep inside themselves and found enough reserve to blast through a 22 mile, twistie backroad stretch that rewarded with amazing views. We braved the bridge traffic and made it to the ferry just in time for 6:30 p.m. sailing.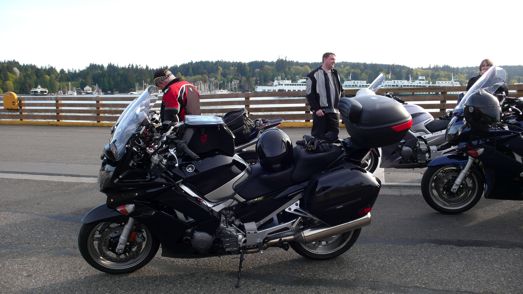 Back on board the ferry, we took in the awesome views from the sound: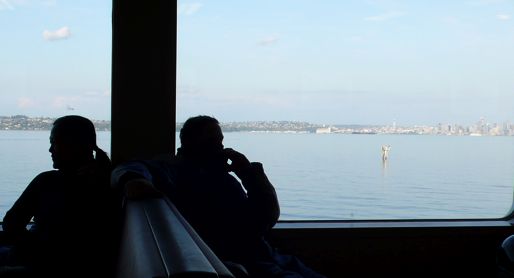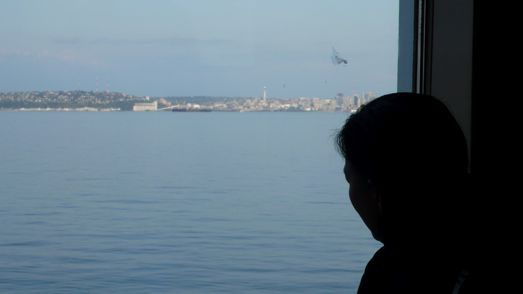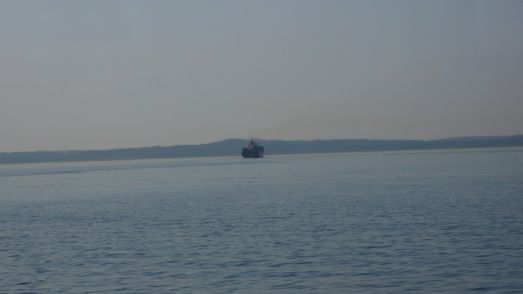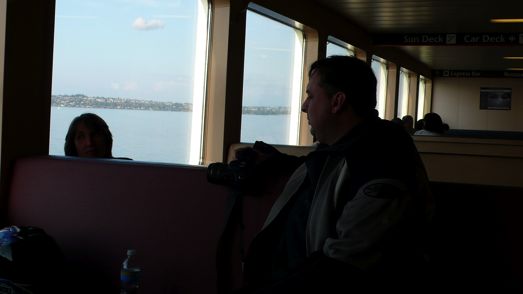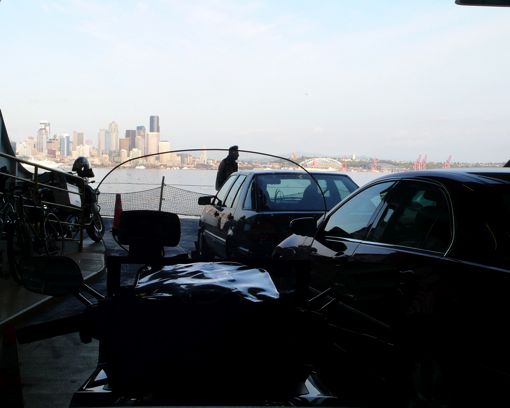 All in all, a great day, a great crew, and a great ride. If I do say so myself...
Route Overview (Click to view full-size map)


Widget powered by EveryTrail:
GPS Geotagging